State-controlled construction companies scored better fulfillment in the first half of 2016, compared to their achievements in the same period last year, as a result of the government's efforts to accelerate infrastructure projects.
President Joko "Jokowi" Widodo earlier this year issued an economic policy package to boost infrastructure projects, including good governance, deregulation and support for land acquisition.
Of four state-owned companies listed on the Indonesia Stock Exchange, PT Waskita Karya (WSKT) posted the highest revenue growth in the first half of this year from the same period in 2015. The company secured Rp 8 trillion in revenue in the six months, double the previous year's period.
Waskita's capability in handling construction projects increased after receiving Rp 3.5 trillion from a state capital injection in 2015. As of the first half of this year, new contracts obtained by Waskita amounted to Rp 46 trillion, four times more than the achievement a year earlier.
In the second position, PT Wijaya Karya (WIKA) posted revenue of Rp 6 trillion during January-June this year, up 26 percent from the first half of 2015. One of the largest projects handled by WIKA is Terminal 3 of Soekarno-Hatta International Airport, with an investment value of Rp 5.7 trillion.
As of July 2016, WIKA had dealt with new contracts amounting to Rp 16 trillion, 31 percent of its target this year, to build a 142-kilometer Jakarta-Bandung high-speed railway (HSR). The company will get a capital injection of Rp 6.15 trillion from the government and public investors through a rights issue scheme.
At the same time, PT Pembangunan Perumahan Tbk (PTPP) recorded its revenue increasing Rp5.2 trillion with net profit reaching 122 percent to Rp355 billion.
Though it seems to focus on building houses, PTPP received a significant amount of contracts from the engineering, procurement, and construction (EPC) segment, leading to its profit margin rising significantly in the first half of 2016.
The company's revenue from the EPC segment, which mostly came from 35,000-megawatt power plant projects, increased four times to Rp 1.6 trillion compared to the performance in the same period last year.
EPC projects have generated 22 percent in profit margins, larger than that of the construction segment of around 3 percent. Thus, the contribution of the EPC segment improved to 17 percent of the half-year revenue, compared to 5 percent in the same period last year.
Chart: Net income and revenue growth of state-controlled constructions companies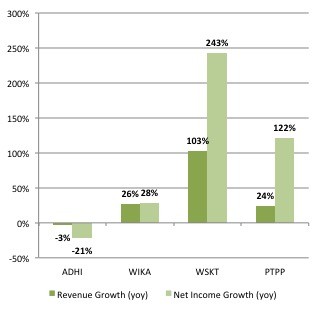 Source:(Company results/Bareksa.com)
Unfortunately, the dazzling performance of those three state construction companies does not seem to have been experienced by PT Adhi Karya (ADHI). The contractor of a light rail transit (LRT) project generated Rp 70 billion of revenue in the first half, down 21 percent from the previous year's achievement.
Adhi Karya also posted the lowest contract realization as it booked Rp 7 trillion in new contracts in July 2016, less than 29 percent of the target for this year, while Wijaya Karya reached 31 percent of its target. Waskita and PTPP both obtained 69 percent.
A drop in Adhi Karya's financial performance does not mean, however, a dangerous stock price movement. ADHI's stock price increased 29.44 percent from earlier this year to Aug. 24, year-to-date, beating its peers with better financial performance, such as WIKA (23.11 percent) and PT PP (16.13 percent). WSKT stocks are still leading with a 66.47 percent return year-to-date.